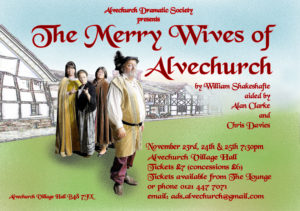 Alvechurch Dramatic Society presents The Merry Wives of Alvechurch, from Thurs November 23 to Sat 25 November in the Alvechurch Village Hall. For the first time in the theatre group's nearly 70 year history this gentle comedy includes a substantial portion of a Shakespeare play.
When a young Will Shakespeare (or Shakeshafte as he was sometimes known) is forced to leave his wife and children in Stratford, having been accused of poaching on Sir Richard Lucy's Charlecote estate, he joins a travelling theatre company, The Earl of Worcester's Men. Arriving in Alvechurch to perform at the local mop fair, the company find that Sir John Stafford, the local landlord, bully and womaniser, has banned players, preferring more down-to-earth pleasures. Ignoring the protests of the local business women who are organising the fair, he is only persuaded to change his mind when Will offers to write a new play especially in his honour. When Sir John arrives at the Bear Inn for the performance of this new piece – an early version of The Merry Wives of Windsor – he finds himself in for a big surprise.
Written by Alan Clarke and Chris Davies (with a little help from one William Shakespeare), the production features live music by Dave Howard and members of the Alvechurch Radical String Ensemble.
23rd, 24th, 25th November 2017
7:30pm, Alvechurch Village Hall
Tickets £7 (£6 Concessions)
Tickets are on sale now from the Lounge, Alvechurch, or phone 0121 447 7071, or email ads.alvechurch@gmail.com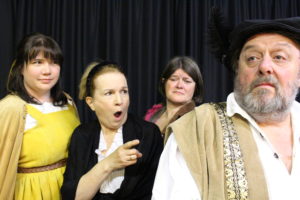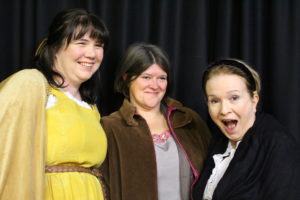 Martyn Read as Sir John Stafford, is mocked by the Alvechurch goodwives (Myfanwy Griffiths, Maura Williams and Sarah Batstone)